Camp Erin® Tampa Bay 2018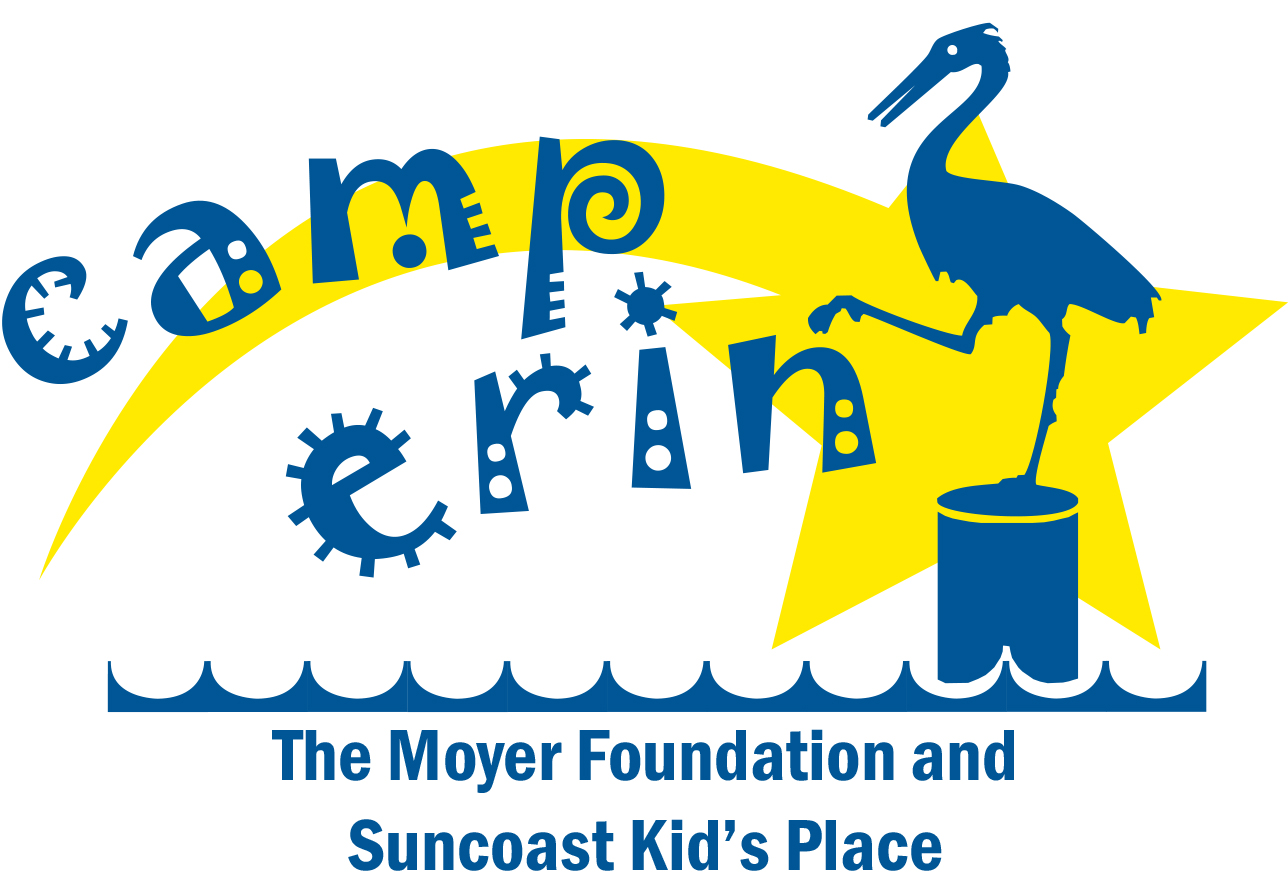 Dates: Friday, February 23rd - Sunday, February 25th, 2018
Registration for Camp Erin Tampa Bay 2018 will not begin until October 2017.
If you would like your information added to the newsletter list, please email camperin@suncoastkidsplace.org
Camp Erin Tampa Bay is a transformational weekend camp specifically designed for kids and teens, 1st-12th grade, who have experienced the death of a significant person. Camp Erin combines traditional, fun camp activities with grief education and emotional support, free of charge for all families. Led by grief professionals and trained volunteers, Camp Erin provides a unique opportunity for youth to increase levels of hope, enhance self-esteem, and especially to learn that they are not alone. Camp will be held at Word of Life Florida in Hudson, FL
How Can I Get Involved?
Campers
Camp Erin is FREE to all campers made possible by a grant from The Moyer Foundation.
Camp Erin is filled with traditional, fun camp activities combined with grief education and emotional support. Camp Erin offers a place where campers can interact and bond with peers. It is a place where they can express their feelings of grief, learn coping skills and most importantly, begin their healthy healing grief journey.
Campers will be chosen on a first come first serve basis with priority given to new campers*, following a required family interview. Due to high volume of applications, not all applicants will be able to attend this year, but will receive priority for next year's camp. Acceptance status will be communicated after all family interviews.
*Campers that have previously attended Camp Erin will automatically be added to the waitlist. Please verbally inform us if the child has experienced a significant death since attending.
Registration will become available October 9, 2017.
Interested in Volunteering?
Be a part of an incredible weekend as a Big Buddy for campers or serve as a Support Volunteer for activities! The Camp Erin volunteers play an important role in the campers' experience.
Camp Erin is looking for volunteers to be Big Buddies that act as role models for the campers. They should be able to provide comfort and support while participating with the campers through the camp activities. Most importantly we ask volunteers to create a positive, fun, and energetic atmosphere for the campers.
Volunteers must be 18 years or older and be in good physical condition. Volunteers need to be able to meet a national background check, participate in an orientation interview, and attend all required volunteer trainings and relevant meetings. Family members of campers are unable to volunteer the year their camper attends.
Registration will become available October 9, 2017.
Donate Goods or Services
Camp Erin Tampa Bay is in need of many supplies to make this an amazing weekend for the campers. Please email CampErin@SuncoastKidsPlace.org if you are interested in sponsoring or donating.
Sponsorships Available
T-Shirts
Have your company name and logo on the back of the Camp Erin Tampa Bay T-shirts worn by campers, volunteers, and staff.
$1,000.00
Baseball Caps
Provide a baseball cap for seventy children that includes your company name and logo.
$500.00
Fund-A-Camper
Send a child to Camp Erin Tampa Bay.
$350.00 per camper
Donate New/Lightly Used Items
Individually wrapped snacks
Juice Boxes
Water bottles
Children's books
Board games
Craft supplies (markers, paint, crayons, etc.)
Flashlights
Duffel bags
About Camp Erin
Camp Erin is an initiative created and supported by The Moyer Foundation - a network of free bereavement camps designed for children and teens ages 6-17 who have experienced the death of someone close to them. It is a traditional, fun and high-energy weekend camp combined with professional grief counseling, education and emotional support. In 2002, the first Camp Erin location was established in Everett, WA in honor of Erin Metcalf, a family friend of the Moyer's who lost her battle with cancer at age 17. Erin's wish was to help other children coping with a loss. Camp Erin offers over 40 camp locations nationwide, including one serving children in every Major League Baseball city.
About The Moyer Foundation
The Moyer Foundation is a public, 501(c)(3) non-profit organization with a mission to provide comfort, hope and healing to children affected by loss and family addiction. Founded in 2000 by World Series champion pitcher Jamie Moyer and his wife Karen, The Foundation created and supports two signature programs. Camp Erin® is the nation's largest network of free bereavement camps for grieving children and teens ages 6-17. Camp Mariposa® is a free, first-of-its-kind program for children ages 9-12 impacted by a family member's addiction. For more information on The Moyer Foundation and its programs, please visit www.moyerfoundation.org.